Want Ad Wedding, Book #1 Cowboy Creek Series COMING APRIL 2016
When Leah Swann arrives in the Kansas Boom Town of Cowboy Creek, the last person she expects to see is Daniel, a childhood friend she hasn't seen since before the war. She arrives as mail order bride, but is concerned for her health at that of her unborn baby—a baby who needs a father.
Daniel Gardner was part of the council that sent for brides, never imagining one of them would be the woman he's never forgotten and never stopped loving. He offers marriage and is prepared to settle for a marriage of convenience…but God has something else in mind.
---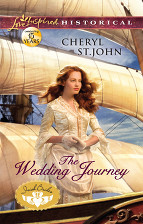 The Wedding Journey
Book #1 Irish Brides Series
The mysterious inheritance is the answer to a prayer. Now Irish lass Maeve Murphy and her sisters can come to America! She's sure happiness awaits her, even if it won't – can't – come from widowed ship doctor Flynn Gallagher. Yes, he made her his assistant, but she's not foolish enough to fall for the man all the eligible, wealthy female passengers admire.
Flynn Gallagher may have his pick of ladies, but only one cares as he does for the sick and poor. Flynn vowed never to marry another woman who could break his heart. With Maeve, has his heart found safe harbor at last?
Order: Kindle
---
The Preacher's Wife
There was nothing remotely romantic about widowed father Samuel Hart's marriage proposal. Yet Josie Randolph said yes. The Lord had finally blessed the lonely widow with the family she'd always dreamed of. And she was deeply in love with the handsome preacher, whose high ideals inspired everyone. Surely during their long journey across the western plains to his new post her husband would grow to love her.
Each mile brought them closer to home, yet drove them further apart. Samuel didn't seem ready to open his heart again. But Josie was determined to be not just the preacher's wife, butSamuel's wife.
Order: Kindle
---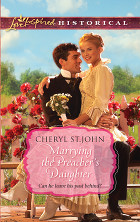 Marrying The Preacher's Daughter (sequel to The Preacher's Wife)
Bounty hunting was just a job for Gabe Taggart—one he needed to fund his sister's education. But now Irene has finished school, and Gabe is ready to settle down, find a husband for Irene and—best of all—set aside his past. His adventuring days are over…until his intervention in a train robbery leaves him injured, under Elizabeth Hart's care. Despite his plans for a quiet life, antagonizing his feisty caretaker is the most fun Gabe's ever had. Elizabeth provokes him, too, with her strong mind, kind heart and high principles. Gabe hopes to win her love, but will his dark history bar him from marriage to the preacher's daughter?
Order: Kindle
---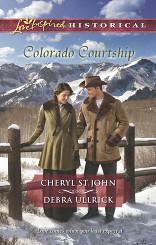 Winter of Dreams | Colorado Courtship
If Violet Kristofferson had known that her new employer was the town undertaker, she might never have come to Carson Springs as his cook. Yet she needs a fresh start away from scandal. And Ben Charles's unflinching faith could be her path to something truly precious—a new family.
Order: Kindle
---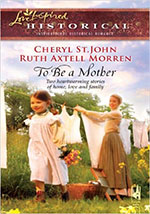 Mountain Rose Novella | To Be a Mother – RITA Finalist
Teacher Olivia Rose knows what it's like to grow up alone and unwanted. But convincing reserved rancher Jules Parrish he can give his orphaned niece a real home won't be easy—unless Olivia seizes the chance of love and motherhood she never expected….
Order: Kindle
---