Dancing in the Dark
Dusty Cavanaugh has loved Kendra since she walked into the school cafeteria and captured a dozen boyish hearts with the sweep of her stormy gray-green gaze and the lift of her chin. College, marriage, and children had been the plan. Then their dreams vanished like morning fog. He'd had his own baby. Without her.
Kendra Price had never wanted to be rich, but wanted to be comfortable, which she was. She'd never wanted fame, but to live her passion to the fullest and dance, which she did. She'd wanted to marry Dusty, have babies and live happily ever after. Which would never happen.
There had been no roadmap for life apart. Will love be enough to guide them back?
Available in Print or Digital
Amazon Apple Nook Kobo Playster Angus & Robertson
Order Dancing in the Dark
---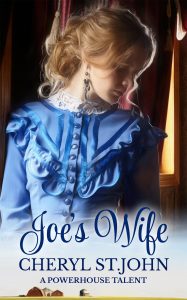 Joe's Wife
After Meg Telford's husband dies in the war and is lauded as a hero, she must face the fact that she can't keep the ranch without a man to shoulder the workload. Nothing will stop her from saving Joe's dream. The war has taken nearly all the able-bodied men—and a devilishly handsome bad boy seems her only choice.
Town pariah, Tye Hatcher has a reputation as a hell-raiser, but he's looking to prove himself and has his own plans for the land. Meg's proposal might be too good to be true, but he's willing to take the risk, even if the risk is his heart. Struggling with guilt and the rejection of the townspeople, Meg must learn that her convenient husband is a man who takes risks and does what's right for the sake of others.
Her vulnerable dreams and their hard work will be for naught unless she and Tye reveal their secrets and face what they're both coming to understand—they can't change the past, but the future is in their hands.
Available in Print and Digital: Amazon B&N Kobo
---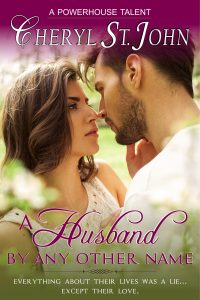 A Husband By Any Other Name
The compelling story of one man's passion, a woman's love, and a desperate secret that could destroy a family.
On the morning of his fourteenth wedding anniversary Dan Beckett's greatest fear came true. His long lost brother was coming home—home to claim his rightful place as the first born son, eldest twin, and as Lorrie's husband, though she didn't know it.
Because for fourteen years, ever since Tom left home and Lorrie came to tell him she was pregnant, Dan has been impersonating his identical twin. And when the truth comes out, his children, his future, his marriage–all he holds dear–will be gone.
The one saving grace is that Tom has amnesia. But for how long?
Order Print or Digital: Amazon B&N Kobo
---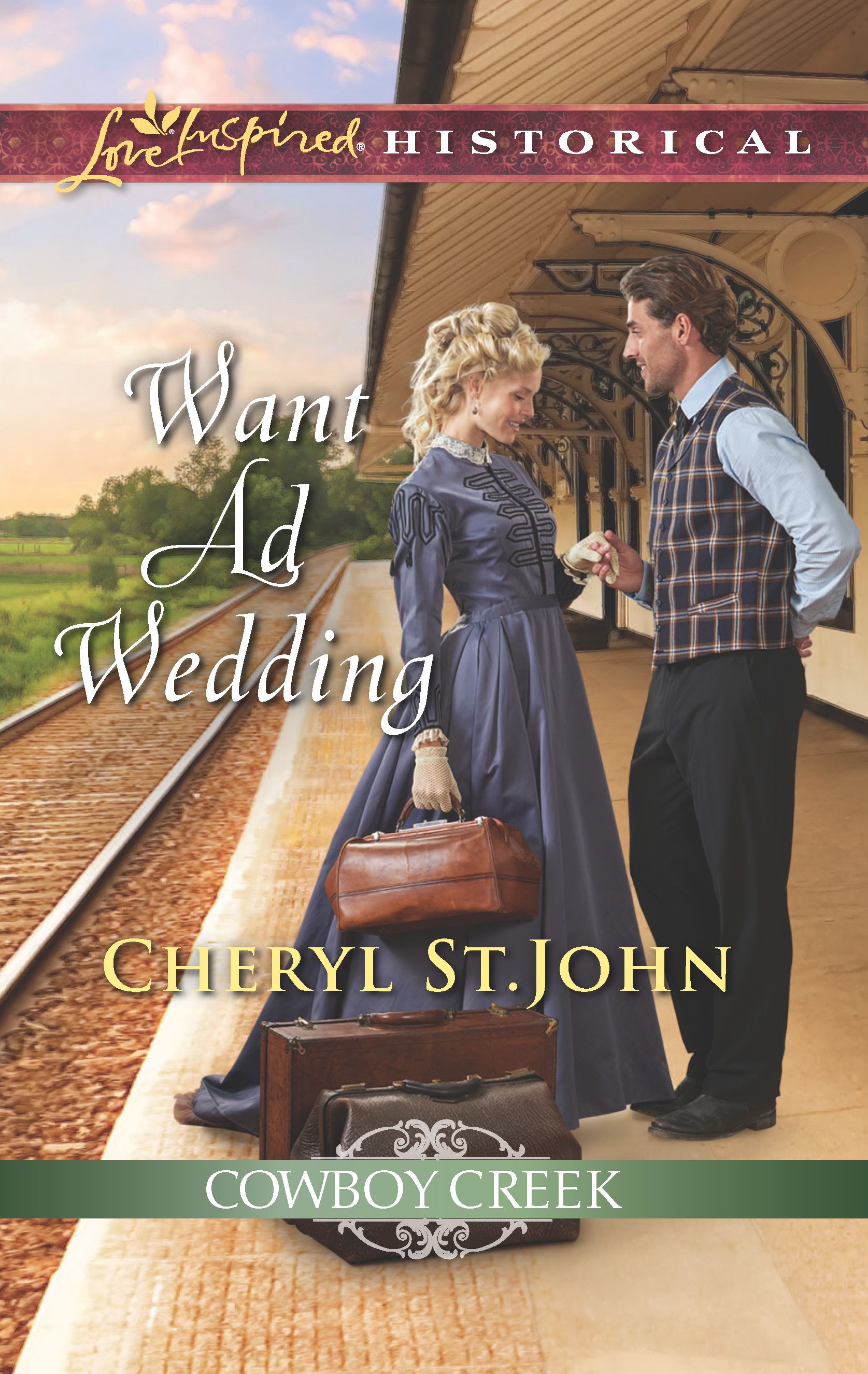 Want Ad Wedding
When Daniel Gardner convinced the residents of his Kansas boomtown to advertise for mail-order brides, he never expected the woman he once loved to respond. But Leah Swann steps off the bride train…pregnant and widowed and in need of a husband. Drawn to protect his fragile childhood friend, Daniel proposes a marriage of convenience.
Seeing her one-time best friend waiting to meet the bride train is a welcome surprise for Leah. After her first rocky marriage, a practical partnership with Daniel sounds perfect–as long as her heart doesn't get involved. But when she starts to fall for her husband, will her plans of a fresh start be ruined…or is a real marriage to Daniel exactly what she needs?
---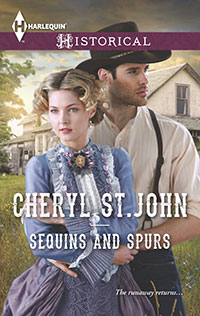 Sequins and Spurs
Singer Ruby Dearing is tired of life on the stage and yearns for a place to belong. She returns home to beg forgiveness from her mother and sister, only to find stubborn Nash Sommerton—her sister's widower—in charge.
Nash is prepared to fight this unruly beauty for his ranch, but Ruby amazes him with her determination to restore the house to the home it once was. Can he persuade Ruby to forgive herself and see the second chance they've both been given?
---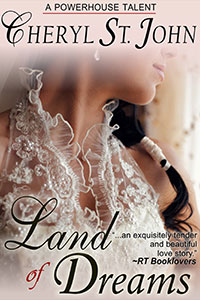 Land of Dreams
In this tale of hope and love, too-tall spinster Thea Coulson wants to be a mother to a child who arrives in Nebraska on an orphan train. When Booker Hayes shows up to take his niece, a marriage of convenience suits them both. Thea's nights are filled with dreams of the tall, dark army major, but she guards her heart.
Booker's first taste of home and hearth has him longing for more, but first he must win the trust of his niece…and the heart of the sun-kissed farmer's daughter.
---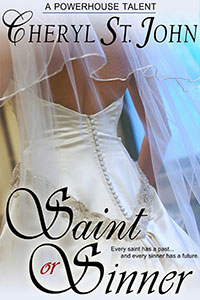 Saint or Sinner
In this heartwarming tale of hope and redemption, Joshua McBride returns from the war a changed man, ready to put down roots and plant his feet in the community. Prim and uptight Miss Adelaide Stapleton, leader of the Dorcas Society, doesn't believe he's changed—people are never what they seem. But she has plenty of secrets of her own—among them the inescapable fact that Joshua sets her heart to pounding and makes her long for his disturbing kisses. How long can she keep her own past hidden—and resist temptation?
---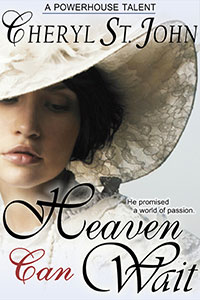 Heaven Can Wait
Dutch Country Brides Book 1
Raised within the confines of a strict religious community, Lydia Beker longs for a simple touch, dreams of seeing more of the world. When handsome farmer, Jakob Neubauer and his family visit the bakery where she works, she is fascinated, but Outsiders are forbidden to her. Jakob is attracted to Lydia, as well, and she makes the difficult decision to leave everything she knows behind to marry him. He offers love and passion, but will she ever fit into his world?
---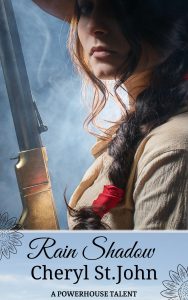 Rain Shadow
Dutch Country Brides Book 2
Raised by the Lakota Sioux and having traveled with the Wild West Show for many years, Rain Shadow is unprepared for a forced stay at the home of Anton Neubauer while her son recuperates. He is a rock, a man who has lived on and farmed the same several hundred acres since he was young.
Anton needs a mother for his son, but he needs someone domestic and ladylike, not the Smith & Wesson toting female who sets up her teepee in his front yard and whose target practice wakes him at the crack of dawn. But fate, two little boys and two old men conspire to keep them together, and it's too late to deny their passion once love is part of the equation.
Order: Kindle
---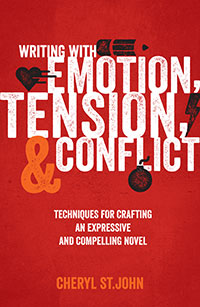 Writing With Emotion, Tension and Conflict
In describing Cheryl's stories of second chances and redemption, readers and reviewers use words like, "emotional punch, hometown feel, core values, believable characters and real life situations." amazon and Goodreads reviews show her popularity with readers. Today's highly competitive fiction market requires writers to imbue their novels with that special something – an element that captures readers' hearts and minds. In Writing With Emotion, Tension & Conflict, writers will learn vital techniques for writing emotion into their characters, plots and dialogue in order to instill that special something into every page.
With a 4.9 star rating on amazon, Cheryl's bestselling non-fiction book, Writing With Emotion, Tension & Conflict by Writer's Digest Books is available in print and digital.
Order: Amazon B&N Writer's Digest Writer's Digest ebook
---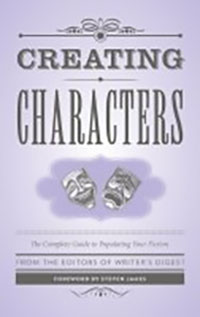 Featured in Creating Characters
Populating your fiction with authentic, vivid characters is a surefire way to captivate your readers from the first sentence to the last. Whether you're writing a series, novel, short story, or flash fiction, Creating Characters is an invaluable guide to bringing your fictional cast to life. A comprehensive reference to every stage of character development.
Order: Amazon B&N Writer's Digest: