The Harvey Girls
The Doctor's Wife
People like Elli Parrish did not get proposals of marriage from someone like Dr. Caleb Chaney. Even if his offer was the answer to her prayers, a man as decent and kind as Caleb didn't deserve a woman whose past was a lie.
Caleb Chaney could see that Ellie was a woman with a troubled soul. But he could also see a woman with a heart big enough to love his infant son as though she were his mother, and big enough to teach Caleb himself how to love again.
Currently unavailable in print or Kindle, except for the Blogger Bundle from Amazon
---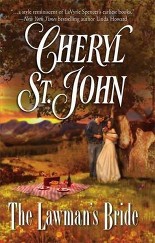 The Lawman's Bride
Kidnapped as a child, sold to a con man, she'd fast learned how to sweet-talk her way out of trouble. Now all Sophie wanted was to be left alone to build a new life—one that was honest and decent, based on truth, not trickery.
Clay Connor was the last man she should care about. Upright and honorable, the town's marshal deserved better than a woman with a tainted past. But if only Sophie could learn to trust again, she might find this lawman would make her new life complete.…
Order:  Kindle     Large Print
---
The Preacher's Daughter
An untouched woman…
Lorabeth Holdridge longed for life and experience! Cloistered by her strict father, her world was confined to chores and prayer. Her chance of escape came when she took a job as housekeeper to a boisterous family. Lorabeth reveled in her newfound freedom. And when Benjamin Chaney visited, she felt the stirrings of her first crush.
A hard-bitten man—
Jaded and cynical, Ben found it hard to trust, though Lorabeth's sweetness soothed his battered soul and taught him joy. But he would have to face the demons of his past to find a glorious future in Lorabeth's arms!
Order:  Kindle
Available as Super Librarian's Blogger Bundle | 3 Kindle books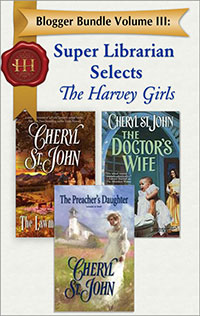 ---
Copper Creek Brides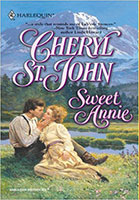 Sweet Annie
Annie Sweetwater wasn't like other girls
All her life everyone she'd ever known had told her so. Except Luke Carpenter, who never let her limp blind him to seeing her as she really was: a woman grown, full of dreams, desires and hopes for a future—with him!
Luke couldn't remember a time when he hadn't loved her
To her family, she was a Dresden doll in a wheelchair. To Luke, She was his Sweet Annie, a woman of surprising gifts, with a heart as open as the wide Western sky. And he'd risk anything to make her his bride!
Order: Kindle
---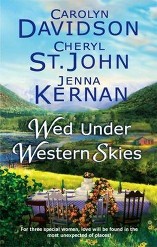 Almost a Bride Novella | Wed Under Western Skies
The only unmarried woman in town, Charmaine Renlow has been waiting years for her beau to propose, and she's had enough. Maybe it's time to move on to greener pastures…like single father Jack Easton's homestead!
Order: Kindle
---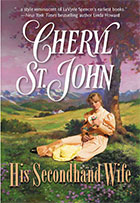 His Secondhand Wife
RITA Finalist
Noah Cutter was a man of his word…
Scarred in body and soul, rancher Noah didn't consider himself fit company for anyone. But when his brother's philandering finally caught up with him, honor dictated that Noah claim his brother's widow as his own….
Standing on her doorstep, with his collar turned up and a rifle by his side, Noah was about the most intimidating man Katherine had ever seen. And though one man's false promises had already dashed her dreams, she instinctively trusted this stranger. Even more, Kate suspected she'd only be a fool this time if she didn't take a chance on Noah for the sake of herself…and her unborn child!
Order: Kindle
---
Western Historical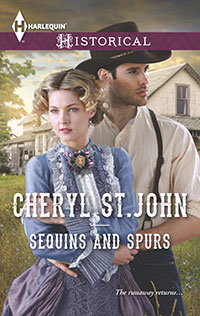 Sequins and Spurs
Her last chance at redemption
Singer Ruby Dearing is tired of life on the stage and yearns for a place to belong. She returns home to beg forgiveness from her mother and sister, only to find stubborn Nash Sommerton—her sister's widower—in charge.
Nash is prepared to fight this unruly beauty for his ranch, but Ruby amazes him with her determination to restore the house to the home it once was. Can he persuade Ruby to forgive herself and see the second chance they've both been given?
---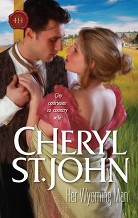 Her Wyoming Man
Courtesan Ella Reed escapes dangerous city life to rural Wyoming and says "I do" to a marriage of convenience! But she may not live the life of a respectable woman for long if she can't keep her past–and her heart–under lock and key.
For a self-made man with political aspirations, love is trivial in a paper marriage. Nathan Lantry needs a wife to secure his election and manage his rowdy little boys. Yet he can't stop wanting more from his irresistible new bride. Then her secrets start to unravel….
Order: Kindle
---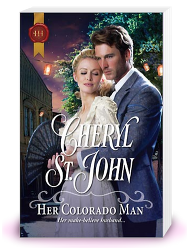 Her Colorado Man
When eighteen-year-old Mariah found herself pregnant and unmarried in her small Colorado town, she disappeared. One year later, she returned with a baby—though minus the "husband" who had conveniently ventured off to Alaska's gold fields to seek his fortune….
But now, with handsome adventurer Wes Burrows turning up and claiming to be the husband she had invented, Mariah's lies become flesh and blood—and her wildest dreams a reality!
Order: Kindle
---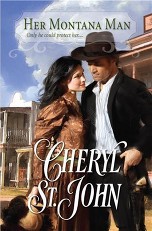 Her Montana Man
Protecting people runs through Jonas Black's blood, and Eliza Jane Sutherland is one woman who needs his strong arms around her.
A rugged Montana man, Jonas will guard Eliza from her vile brother-in-law as fiercely as he guards his own heart. But though he can fight her enemies, he can't fight the attraction between them.
Soon Jonas is sure they have a future together—only Eliza hides secrets that could change everything….
Order: Kindle
---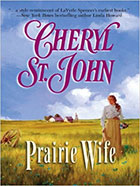 Prairie Wife
No mother should have to bury her child
Amy Shelby had learned this sorrow well. Her heart had gone into the ground a year ago along with her boy's tiny casket. And not even her husband, Jesse, wrestling the same pain, could resurrect any hope in her.
Jesse Shelby mourned two losses—his baby son and his openhearted bride, for when their child died, Amy retreated behind a wall of grief as wide as the Nebraska prairie. But could a chance for a new family heal their wounded marriage—and guide them back to the comfort of each other's arms?
Order: Kindle
---
Joe's Wife
Tye Hatcher returned to Aspen Grove to find that life in the sleepy Western town hadn't changed much. The townspeople stubbornly refused to see the man he had become. That is, everybody but Meg Telford. Meg definitely took notice of the reticent rancher and gave him a chance in life when no one else would. Still, Meg clung to the memories of her late husband, afraid of the feelings Tye aroused in her heart. And though Tye vowed to prove his worth to the town, could he ever prove to Meg that he was worthy of her love?
Order: Kindle
---
Badlands Bride
Shooting a bandit was reporter Hallie Wainwright's introduction to the Wild West, where she'd traveled with a bevy of mail-order brides. But it was the more intimate "hello" in the arms of Cooper DeWitt that sent her heart racing—and made it all the more difficult for her to tell the brawny plainsman that she wasn't the woman he'd sent for….
When she jumped from the stage, shining with true grit and spewing tall tales, Cooper DeWitt thought he just might have struck gold. Raised with the Sioux, Cooper needed a wife who could brave the frontier and corral his restless heart. The problem was, his would-be bride had no intention of marrying him!
Order: Kindle
---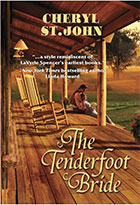 The Tenderfoot Bride
Secrets and lies made poor references, Linnea McConaughy knew. But her survival depended upon keeping her past hidden, especially from her employer, rancher Will Tucker. True, he'd shown her kindness, even tenderness, but could he ever accept her shameful past–and another man's baby?
Will Tucker did not like surprises, and Linnea McConaughy was not the sturdy, past-her-prime widow he'd expected to manage his household. Instead, she was a tiny slip of womanhood desperately seeking a place to belong. Yet much to his growing surprise, that place seemed to be in his home–and his heart!
Order: Kindle
---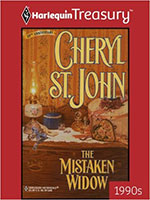 The Mistaken Widow
I'm not who you think I am!
Sarah Thorton wanted to shout, but revealing her true identity could only bring disaster on herself and her infant son. Still, sorrowful circumstance had turned a mistake into a miracle. She suddenly had a home, a family—and Nicholas Halliday, a man as dangerous to her as he was desirable.
His newly widowed sister-in-law wore mystery as elegantly as an evening wrap, rousing more than suspicions in Nicholas Halliday—for this beautiful stranger had a claim not only to the family fortune, but also to his heart and soul.
Order: Kindle
---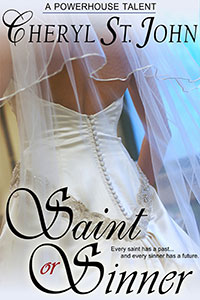 Saint or Sinner
In this heartwarming romance drama of hope and redemption, Joshua McBride returns from the Civil War a changed man, ready to put down roots and plant his feet in the community.
Prim and uptight Miss Adelaide Stapleton, leader of the Dorcas Society, doesn't believe he's changed—people are never what they seem. But she has plenty of secrets of her own—among them the inescapable fact that Joshua sets her heart to pounding and makes her long for his disturbing kisses. How long can she keep her own past hidden—and resist temptation?
Order: Kindle
---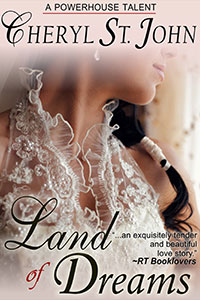 Land of Dreams
In this tale of hope and love, too-tall spinster Thea Coulson wants to be a mother to a child who arrives in Nebraska on an orphan train. When Booker Hayes shows up to take his niece, a marriage of convenience suits them both. Thea's nights are filled with dreams of the tall, dark army major, but she guards her heart. Booker's first taste of home and hearth has him longing for more, but first he must win the trust of his niece…and the heart of the sun-kissed farmer's daughter.
Order: Kindle
---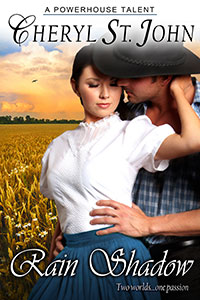 Rain Shadow
RITA Finalist
Raised by the Lakota Sioux and having traveled with the Wild West Show for many years, Rain Shadow is unprepared for a forced stay at the home of Anton Neubauer while her son recuperates. He is a rock, a man who has lived on and farmed the same several hundred acres since he was young.
Anton needs a mother for his son, but he needs someone domestic and ladylike, not the Smith & Wesson toting female who sets up her teepee in his front yard and whose target practice wakes him at the crack of dawn. But fate, two little boys and two old men conspire to keep them together, and it's too late to deny their passion once love is part of the equation.
Order: Kindle
---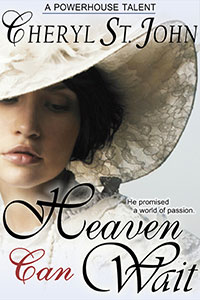 Heaven Can Wait
Raised within the confines of a strict religious community, Lydia Beker longs for a simple touch, dreams of seeing more of the world. When handsome farmer, Jakob Neubauer and his family visit the bakery where she works, she is fascinated, but Outsiders are forbidden to her. Jakob is attracted to Lydia, as well, and she makes the difficult decision to leave everything she knows behind to marry him. He offers love and passion, but will she ever fit into his world?
Order: Kindle
---
Christmas Novellas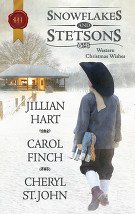 A Magical Gift at Christmas | Snowflakes & Stetsons
Meredith has always dreamed of a grand life but, stranded on a train in heavy snowfall with two young stowaways, she unexpectedly finds she has everything she needs with just one strong man to protect her….
Order: Kindle
---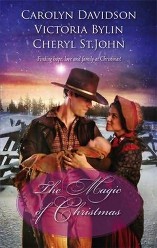 A Baby Blue Christmas | The Magic of Christmas
Turner Price hasn't been the same since he lost his wife and child. But when he finds a young woman and newborn twin babies in his stable, he realizes this may be his second chance to be a loving husband and father, just in time for Christmas!
Order: Kindle
---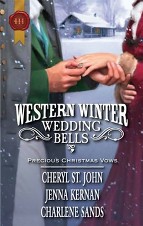 Christmas in Red Willow | Western Winter Wedding Bells
Chloe Hanley must save the town church. But only if she can convince reclusive carpenter Owen Reardon to help repair the broken heart of the community and open his own up again— in time for Christmas!
Order: Kindle
---
Christmas Day Family | A Western Winter Wonderland
RITA Finalist
Marvel Henley though she was content until the new handsome doctor Seth Paxton and his adorable kids crashed into her life! Suddenly she began to yearn for things she had long stopped wishing for…
Order: Kindle
---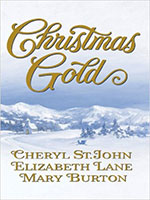 Colorado Wife | Christmas Gold
Finding two orphans on her doorstep, Rosalyne Emery is determined to make local tycoon Sam Calhoun responsible for them. But the mismatched pair soon find themselves trapped in a pretend engagement that might just become a reality….
Order: Kindle