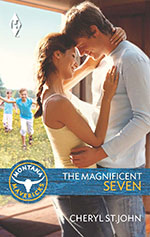 The Magnificent Seven (contemporary)
Heather Johnson had never intended to return to Whitehorn, Montana. But restoring an inherited ranch seemed the perfect way to pass the summer with her three kids. The moment she hired carpenter Mitch Fielding, though, his motherless twin daughters in tow, those short-term plans suddenly went awry. Mitch was the first man in her life who truly seemed to notice her. And as his skillful hands restored the ranch and ignited a passion she'd never known, her fragile heart began to heal, as well. For once in Heather's life everything seemed magnificent. And that scared her. Because the future she wanted—and the past she'd run from—were forever in Whitehorn….
Order: Kindle
---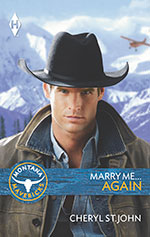 Marry Me…Again (contemporary)
Marrying footloose cowboy Devlin "Devil" Holmes after their heart-stopping one-night stand was the most reckless thing Dr. Brynna Holmes had ever done. With one rough-and-tumble smile he'd lassoed her heart and promised forever. But Brynna was responsible—for her patients and her family—and trusting her fun-loving husband to take care of her didn't come easily…even after eight months of wedded bliss. Now, with their happily-ever-after jeopardized by painful mistakes and misgivings, could she vow to honor, cherish and love…again?
Order: Kindle
---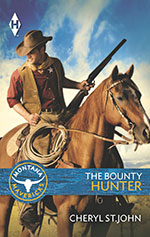 The Bounty Hunter
PREQUEL TO MILLION-DOLLAR MAKEOVER
Nate Harding had seen enough of life's darker side…and bore the scars–inside and out–to prove it. Plus, years of tracking reprobates had hardly improved his opinion of his fellow man. Yet some spark of hope remained in him, he suspected. Why else would he have agreed to settle down in Thunder Canyon as a sheriff whose man job was seeing that the saloons remained respectable? But the quiet life proved elusive whenever he and Lily Divine crossed paths, for the feisty owner of The Shady Lady seemed hell-bent on stepping out a woman's "proper" place…and into his wounded heart.
Order: Kindle
---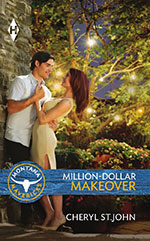 Million-Dollar Makeover (contemporary)
SEQUEL TO THE BOUNTY HUNTER
The search for the owner of the Queen of Hearts Mine is finally over, and the lucky lady is none other than Thunder Canyon's own favorite dog-walker, Lisa Martin! The Douglas family is no longer the richest in town…
Apparently, handsome Riley Douglas (whose family was the richest in town) has taken it upon himself to handle Lisa's considerable finances. He's suddenly spending quite a bit of time with the heiress—just ask the paparazzi camped outside her house. Is he trading in his sophisticated ladies for the plain Jane, or does he have something else up his sleeve? This prospector is willing to bet her weight in gold that this gal will soon be rich in love and money!
Order: Kindle
---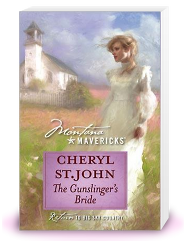 The Gunslinger's Bride
Eight years ago, Brock Kincaid had tried to put Abby—and her brother's senseless death—out of his mind. After all, a man whose livelihood was tied to the six-shooters at his hips couldn't allow emotional memories to dull his senses. But seeing her again brought it all back: the passion, the hunger, the confusion. Nothing had changed, and yet, when he looked at her child—everything had changed. Abby needed a man to match her fire, and he would be that man. He would know his son. Now if he could just convince Abby to believe in him again…and in the future that was meant to be!
Order: Kindle
---
Isabelle | Big Sky Brides – NYT List
Unavailable